Modern Building design of simple 2 bedroom bungalow in Nigeria
This Simple design of 2 bedroom bungalow  can be your choice if you have small budget or your land size is very small, infact if the land total area in square meter is not upto 200sqm. The minimum building size requires is 1 1meters by 15 meters.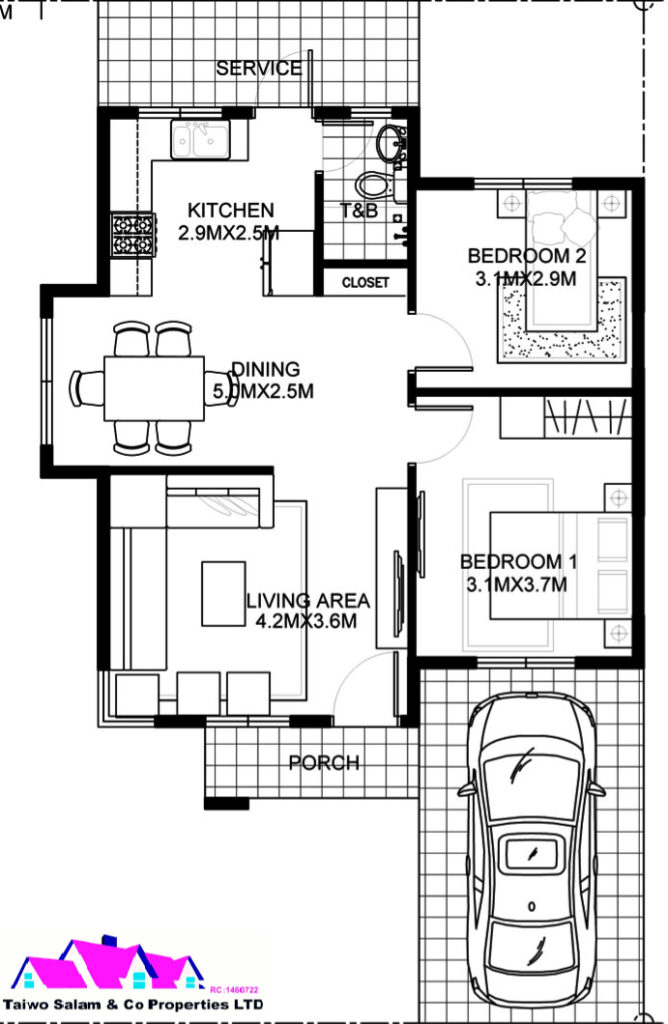 Looking at the site development plan, this simple house should have at least 3 meters setback from the front boundary to accommodate the garage. With fire wall on the right side, 1.5 meters setback on the left and rear.
This house model combines neutral colors, in which white paint is more dominant in the walls. Accent wall specifically in the dining are when looking outside is treated with crazy-cut stone up to the roof level. Light grey color is applied to the columns at the porch area and on the firewall to the right side.
Small 2 Bedroom Bungalow house design occupying  60m2 total floor area which can be built on a half plot of land from the range of 135m2 total land area.
This design is open kitchen like America building and it can also be built on a narrow lot provided that the wall will be erected from the living room but this can make the kitchen a kind of small in size. The roof can be re-designed to PAN or another pattern design if you can't coup with the cost of decking.
This is the typical house plans preferred in some part of Nigeria most especially when area of the land is small or due to its economic aspect because the house can be completed under low income or budget.
If this design is your choice or related to your desire, contact us for plan measurement; we can re adjust or design your dream project, kindly contact us for Survey plan, structural details, building plan, Approval, Cost analysis, Site Inspection and Construction at pocket friendly cost.